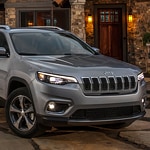 There is a lot to take in when you see the Jeep Cherokee. This is not just your ordinary SUV. This vehicle is made to be durable, rugged, and comfortable at the same time. That is what has turned it into one of the more popular compact SUVs being driven on the road today.
The Jeep Cherokee is just as comfortable on the highway as it is flying down a dusty country road. This is because of the many capability features built into its design, such as its ground clearance. You will find that there is ample room to drive over off-road objects without damaging the vehicle.
Water fording is another feature that you will appreciate. This will allow you to safely drive through water without risk of damage thanks to the sealant capability built around the vehicle. You will be able to experience all of this when you test drive the Jeep Cherokee at Providence Autos.