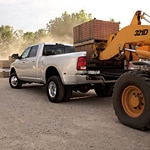 One of the most popular heavy-duty trucks is the Ram 3500. This Ram truck is a big seller thanks to its two major powertrain options. Here's a look at those Ram 3500 powertrains and what they can do on the road.
The standard engine on the Ram 3500 is the 6.4-Liter Heavy-Duty V8 HEMI® with MDS engine. This engine delivers up to 410 horsepower with a max tow rating of about 13,000 pounds. For those who need maximum in towing power, there is the optional 6.7-liter Inline Six Cummins High Output Turbo Diesel Engine. This Cummings diesel is rated at 370 horsepower with an incredible 1,000 foot-pounds of torque. This diesel engine allows you to tow over 31,000 pounds. Overall, the Ram 3500 gives you the power and the torque that you need in a heavy-duty truck.
Get into the powerful Ram 3500 today. Visit us at Providence Autos in Quarryville, PA.