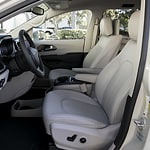 Families are flocking to Chrysler dealerships like Providence Autos to purchase their first Chrysler Pacifica. The vehicle comes in trim levels that meet the demands of any family, whether driving around Quarryville, PA, or along the vast expanses of the country. The Pacifica comes with a spacious cabin that carries as many as eight passengers in comfort on a smooth ride even while traveling along unmaintained roads.
It is no accident that the Chrysler Pacifica is considered one of the finest passenger vans on the market today. While the vehicle is capable of astounding performance, well above others in its class, accelerating from zero to 60 mph in a mere 7.3 seconds, it also delivers an incredible 28 mpg combined fuel mileage.
At Providence Autos, we offer all trims of the Chrysler Pacifica for you and your family. Come by and look the Pacifica over. Fulfill your dreams of family fun and adventure while touring the country.