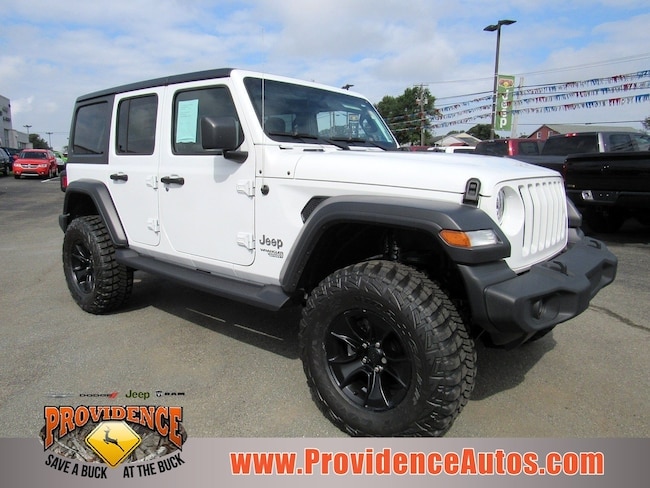 Do you currently drive a 2018 Jeep Wrangler or interested in investing in one as your next vehicle? If either is the case, Providence Autos has exciting news. Right now, we're offering the Jeep Wrangler Performance Parts 2" Lift Kit. This lift kit amps up performance in the newest Wrangler model by properly equipping it to take on greater off-roading obstacles.
Just like the name implies, the lift kit boosts the height of your Wrangler. A few performance features included in the lift kit are a uniquely curved front spring to improve clearance and a larger 2.5-inch diameter shock to sustain strong ride quality. Boosting Jeep height is a popular demand from drivers who want to test the limits of their vehicle.
If this performance lift kit sounds like something you'd like to learn more about, we have two options for you to consider at Providence Autos:
We do have a Jeep Wrangler model sitting on our dealership lot with the kit already installed. If you don't currently own a Wrangler but are considering getting one, test drive the 2018 Jeep Wrangler Unlimited Sport S 4x4 model (stock #: C19665) in Quarryville.
If you already have a Jeep Wrangler sitting in your garage, but like the sound of this performance kit, you can order the Jeep Wrangler Performance Parts 2" Lift Kit at Providence Autos, and when it arrives, our service technicians will install it on your Wrangler onsite.
The Wrangler is a vehicle crafted for off-road adventure and this Jeep Wrangler Performance Parts 2" Lift Kit is a great way to jumpstart a new journey with a Wrangler or bring your current model to the next level of performance. Give us a call to learn more about ordering a kit or scheduling a test drive of our onsite kit-equipped Wrangler.